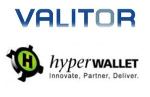 Valitor, the Iceland-based acquiring services provider, has recently signed a new partnership with hyperWALLET Systems Inc. to expand its international issuing services for the issuing of prepaid cards.
This new partnership with hyperWALLET Systems Inc. allows Valitor to issue cards to independent sales representatives of the direct selling sector in Europe.
"hyperWALLET initially selected Valitor because of its history of excellence in European cross-border payments.  However, we are finding Valitor's willingness to localise solutions for each country within its licensed region is what really sets the company apart in the market today," explained Lisa Shields, CEO of hyperWALLET.
Alongside the recent developments in Valitor's UK efforts, the company's processing platform, which it developed for the Icelandic market, has also been gaining a lot of attention from within Europe. Valitor promoted the software in the UK last year, in partnership with British organisations and Visa Europe, where it earned positive feedback.
Viðar Þorkelsson, CEO of Valitor stated, "With the successful export of our processing platform it was obvious to continue our efforts in Europe. The European market is very interesting for Valitor and we see this agreement with hyperWALLET Systems Inc . as a significant step in expanding our issuing services across Europe".
For more information regarding Valitor's international issuing services and acquiring services, visit www.valitor.com.