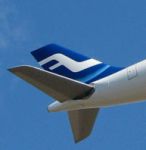 Finland's flag carrier reported a substantial rise in passengers carried last month, but its cargo business remains down. Officials from the Helsinki-based firm said that the airline carried in excess of 10 per cent more travellers last month than in September 2011. The carrier's entire route network saw an increase over the period, with the exception of North Atlantic flights, while Asian and European routes saw the most impressive growth.
Other figures released Friday showed that the firm's load factor grew more than 5 per cent to 79 per cent, while leisure volume increased by a whopping 30 per cent. However, cargo volume was down by more than 7 per cent over the same time frame, officials said.
Finnair chief financial officer Erno Hildén told media, "In September, we saw continuing strong demand in our traffic. Traffic growth notably exceeded the growth of overall capacity, contributing to the improvement in unit revenue year-on-year," the YLE news agency reports.