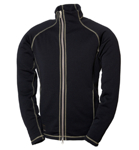 Hollywood actor Tom Cruise has been spotted braving Iceland's harsh weather with the iconic Icelandic outdoor clothing brand 66°NORTH during the filming of the upcoming science fiction film Oblivion.
Tom Cruise was spotted wearing the Vík fleece jacket (http://www.66north.com/shop/p-6771-vik-mens-jacket.aspx) by 66°NORTH during the filming of Joseph Kosinski's science fiction thriller Oblivion on location in Iceland. Due to the set's setting in the Icelandic wilderness, Mr. Cruise required a garment that could easily withstand whatever the ever-changing weather could throw at him – the fleece jacket being the suitable option due to its climate control and comfort.
Established in 1926, 66°NORTH is one of Iceland's oldest manufacturing companies. It has been a long-time leading innovator in the creation of specialised clothing for use in the toughest conditions on land and sea. Over the past ten years, 66°NORTH has grown extensively and is considered an expert in the production of outdoor clothing.