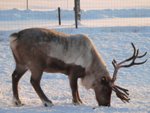 A recent report has said that the new sport of snow-kiting is damaging to reindeer populations in Norway. The news comes via a recent study published in the Applied Animal Behaviour Science journal, in which scientists recommend that legislation be put in place to prevent the increasingly-popular activity from reducing the animals' territory and feeding habits, causing potential harm to the species.
In the study, researchers modelled the fear and response of wild reindeer to the sport, in which participants wear a skis and use a large kite to slide along the ice and snow. They found that as the number of snow-kiters grows, the animals are far more likely to avoid heavy traffic areas, which reduces the amount of time they feed as well as the amount of food available.
The report said that the risk of harming reindeer was far greater for snow-kiting as opposed to traditional skiing activities, as the kite was reportedly more frightening to the animals and the activity covers a much larger area than other winter sports.
Researchers said its effects could result in "very negative population consequences," the BBC reports.
Snow-kiting is thought to be one of Norway's fastest-growing outdoor sports.