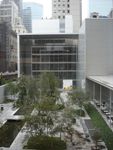 Edvard Munch's famed piece 'The Scream' is set for an exhibition in New York after being sold to an anonymous bidder earlier in the year. The Norwegian artist's best known painting will be shown for a six-month period at the Museum of Modern Art (MoMA),beginning on 24 October. According to the New York Times, it will be displayed on the museum's fifth floor in a high security area until 29 April 2013.
The news comes after the pastel, created in 1895, was sold at an auction in May for USD 120 million (EUR 92 million). The iconic Edvard Munch piece is one of four versions of The Scream that were painted between 1893 and 1910.
Glenn D Lowry, director of the MoMA, told reporters that the exhibition would provide the public with an "incredible opportunity" to view the expressionist's most-renowned piece. The remaining three versions of The Scream are still owned by Norwegian art museums.
According to a BBC report published on Tuesday (18 September), the new owner of the piece is said to be American financial tycoon Leon Black. He is one of New York's biggest collectors and serves on the board for the MoMA.