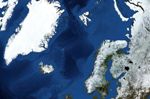 A substantial earthquake has struck in the Sea of Norway.
According seismologists from the United States Geological Survey, the event took place on Thursday30 August, just over 93 miles from the remote town of Olonkinbyen on Norway's outlying Jan Mayen Island.
The location was around 262 miles (453kms) from the coast of Scoresbysund, Greenland, and about 582 miles (936kms) north of Reykjavik, Iceland, where residents saw a 4.6 magnitude tremor earlier that day. Despite being a large quake for the region, it was only felt by about 50 temporary residents at a research facility in Olonkinbyen. No injuries were reported.
Erik Persheim, who was working in Olonkinbyen when the quake occurred, said "We watched the mountain as the loose stones and shale came sliding down. It didn't seem very big and I don't think much of anything broke, but we'll have to have a thorough inspection," the Associated Press reports.
Officials said that the quake was recorded at a depth of 8.6kms, and according to the European-Mediterranean Seismological Centre, a 5.2 magnitude aftershock occurred just minutes after the initial quake.