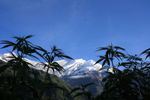 Officials from Finland's national pharmaceutical agency Fimea are likely to legalise medical cannabis, according to reports.
A decision on Sativex, an oral spray with cannabis as the active ingredient, will be issued by Fimea within a few weeks, according to Fimea's director for the assessment of medicinal products, Erkki Palva.
Palva said in an interview with the YLE news agency this week, "There don't appear to be obstacles to granting the licence."
Should Sativex gain approval, sufferers of multiple sclerosis and other diseases will be able to purchase the medication with the aid of a doctor's prescription and without the need to apply for further licensing. Sativex has already been legalised in Sweden, and experts say the drug provides a number of benefits including pain relief and appetite stimulation.
Finnish medical authorities say patients will be prescribed the drug on a case-by-case basis.
Meanwhile, Eija Kalso, a researcher from Helsinki University Central Hospital, said that cannabis still needs substantial regulation despite its benefits. "Cannabis is not a general pain reliever. It's not effective for the treatment of acute pain or, for example, for cancer-related pains," YLE reports.