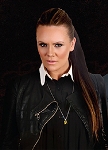 A self-help book entitled The Success Secret was released in the U.S. last week. The book, which was co-written among other leading experts by Gydja Collection founder Sigrun Lilja Gudjonsdottir immediately went to three different bestseller lists and in the second place on Amazon's bestseller list.
The founder of the luxury Icelandic fashion brand Gydja Collection, associated with bestselling self-help author Jack Canfield and leading experts from around the world to edit a book which is an inspiring collection of success stories and practical advice in life and in business
Throughout the book, each author shares their own success secrets and tips in order to help others realize ultimate health, wealth, marketing, and business success.
Some of the topics covered in the book include overcoming media obstacles, goal setting, breakthrough strategies with money, cellular memory release, stress, how to become the expert, relationships, fitness, and the benefits of having a successful mindset, amongst numerous others.
Icelandic fashion designer Sigrun Lilja Gudjonsdottir started Gydja Collection, the luxury Icelandic fashion and accessories brand, at the age of 24. Over the years, her business has gone from strength to strength while her reputation as business women has been rising worldwide.
With an eye for marketing and business opportunities and a heart for fashion, Sigrun Lilja has grown Gydja Collection into one of the best known designer brands in Iceland. Collections consisting of feminine accessories and sophisticated designs are a hit with women around the world, from A-list celebrities in Hollywood to Europe's elite.
To purchase The Success Secret via amazon, click here. Alternatively, The Success Secret can also be purchased through the Gydja Collection online store.
To find out more about Sigrun Lilja and Gydja Collection, visit http://www.gydja.is/.