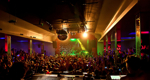 Despite general sale tickets being sold out for the upcoming Iceland Airwaves 2012 music festival, music lovers can still purchase tickets as part of a package deal with the popular Iceland airline Icelandair.
Icelandair is offering an Iceland Airwaves package deal, which includes return flights from the UK and a festival pass.
Artists confirmed to play at Iceland Airwaves 2012 include Sigur Rós, Of Monsters and Men, Swans, Ben Frost, Django Django, Ghost Poet, For A Minor Reflection, Kira Kira, and Ólafur Arnalds.
Furthermore, during the festival, numerous free off-venue shows in downtown Reykjavik will also be taking place.
The Iceland Airwaves festival is an annual music festival that prides itself on promoting up-and-coming international and Icelandic musicians, mixed with Iceland's unique party atmosphere. The first Iceland Airwaves festival was held back in 1999 as a one off event in an aircraft hanger at Reykjavik Airport. Since then, the festival has become a haven for new music, attracting hundreds of partygoers, journalists and industry members from around the world. David Fricke, Senior Editor at Rolling Stone has labelled Iceland Airwaves as, "the hippest long weekend on the annual music-festival calendar."
Iceland Airwaves will be taking place between October 31st and November 4th 2012.
To book the Iceland Airwaves 2012 package deal with Icelandair visit, http://www.icelandair.co.uk/offers-and-bookings/book-packages/package/item226010/Iceland_Airwaves/.
Image: flickr.com/olafur