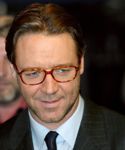 Principal production is underway in Iceland for the Biblical epic, 'Noah', which will star Australian superstar Russell Crowe.
Last week, the first images of the upcoming film were revealed up online, accompanied a descriptive Tweet from the Noah star himself.
Mr Crowe described the harsh work environment via his official Twitter account: "I'm living on a vast plain of volcanic ash in the lee of a volcanic glacier. The commute to work is a hike up a mountain … Wind tears the volcanic desert, ash and sand arcing in 40 foot waves across the plain, in the distance the sonambulent glacier leaks."
Photos of the star show 48-year-old Crowe sporting a full grey beard and long hair against a rather bleak background.
The film, slated for release in March of 2014, is being directed by Black Swan director Darren Aronofsky and will feature the likes of Jennifer Connelly, playing Noah's wife, as well as appearances from Anthony Hopkins, Ray Winstone and a post-Harry Potter Emma Watson.
Portions of the film centred on Noah's legendary arc will be filmed in the United States, according to reports, as the arc itself is currently under construction in New York.