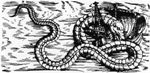 Three Norwegian men claim to have spotted a sea serpent in a lake in Norway's Fjordane County.
A picture of the supposed creature was published by the NRK news agency on Monday, showing the 'nessie'-esque object surfacing in the centre of the Hornindalsvatnet lake near Sogn og.
Hornindalsvatnet is over 510 metres deep, making it Europe's deepest lake.
Eyewitness Andreas Solvik said on behalf of the group, "No doubt about it. We saw what we saw," NRK reports. Solvik and two friends claim to have spotted the serpent from their boat at around 21:30 on Sunday.
The men say the serpent created ripples in the water when there were no other boats on the lake, so they approached after snapping a picture. "However, there was nothing more to see when we got there, just ripples on the lake. There was nothing in the water then," Mr Solvik added.
The group later submitted their story and picture to the local Fjordingen newspaper, whose editor Bengt Flaten said he had no trouble believing the men. Talking about the photo, he told NRK reporters, "We can see two arches, then the tail section at the back, and one can see what is probably the head at the other end."