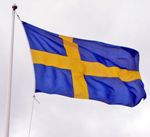 A black box flight recorder has been recovered from the site of the mysterious Hercules plane crash in Sweden.
The news comes more than three months after the Norwegian military aircraft slammed into the Swedish peak of Kebnekaise – the highest in the country – amid a training exercise. All five people on board the plane were killed.
Meanwhile, despite the cleanup efforts and the recovery of human remains, the cause of the crash remains a mystery to aviation authorities.
But following a major search of the crash area by Swedish army rangers over the last week, the first of two black boxes built into the plane has been recovered, prompting fresh hopes that it may provide some insight into the cause of the incident.
Army captain Carl-Johan Olofsson said, "I saw something orange peeking up from the snow. When I dug it up I immediately saw that we'd found the right thing, as 'voice recorder' is written on the unit," the Aftonbladet newspaper reports.
According to officials from the Swedish Accident Investigation Authority, the device will be sent to the United Kingdom to be analysed.
Hans Kjäll, a Swedish aviation safety expert, explained to Aftonbladet reporters that the find may be a critical step for investigators: "It's fantastic that they've found it. If the information is legible, which it probably is, we'll be able to obtain fundamental information. We may even receive the explanation for the crash," he said.