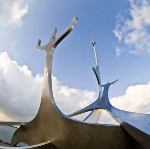 Vodafone Iceland has seen a recent increase in network usage as tourists over the summer have been choosing the communications provider as their preferred roaming partner in Iceland.
This increase in tourist numbers can easily be seen by the number of foreign communication providers connecting to Vodafone Iceland; for example, on 18th June 2012, the Icelandic communications provider saw a 33 percent increase in foreign mobile providers using Vodafone Iceland as their preferred roaming partner, as opposed to the same day in 2011.
Hrannar Pétursson,  Chief Communications Officer at Vodafone Iceland, says phone usage gives a good picture of what is going on in society today. "We often see clear signals in mobile phone usage. When the economy gets worse there is a decrease in network activity, and when it rises again so does the use of mobile phones. We can also see it when the Icelandic national handball team is playing or when the Eurovision Song Contest is being broadcast."
Hrannar adds that Vodafone Iceland's network increases over the summer months because of the influx of tourists to the country, and that the vast majority of those who visit use the Icelandic communications provider as the roaming partner. Furthermore,  Hrannar also states that Vodafone Iceland is equipped to easily handle this increased usage.
This influx of tourists visiting Iceland has had a positive influence on domestic businesses, including Vodafone. It has been reported that since the beginning of 2012 up to the end of May, 170,560 tourists have left the country through Keflavík International Airport, which is a 20.7 percent increase from that of 2011.
For more information about Vodafone Iceland and its services, visit www.vodafone.is/en.
Image: flickr.com/olafur