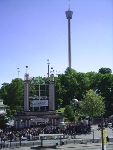 A Guinness World Record has been set in Sweden for the 'most nationalities on a theme park ride'.
The event took place at the Liseberg theme park during the recent Gothia Cup youth football tournament, during which 72 individuals from different nations rode on a Ferris wheel.
Several local residents were among those on the ride, in addition to players taking part in Meet the World and Gothia Cup football matches, some of whom were from places as far flung as Perth, Australia.
Hamish St George, 15, from Perth, told TT reporters, "We were excited just to be playing football when we came here, but this is an added bonus."
Gothia Cup general secretary Dennis Andersson added, "By bringing different nationalities together on one ride we want to show our borderless world and our common responsibility for its future, regardless of nationality, religion, sex or colour," The Local reports.
The new record went well past the previous title event, in which 50 different nationalities rode the same ride. Annabel Lawday, an official Guinness World Record representative, was on hand to witness the event and congratulated the new World Record holders at the end of the ride.