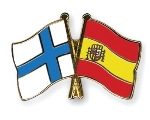 The Spanish and Finnish governments have reached an agreement regarding collateral for a forthcoming bank bailout via the EU.
The move comes following recent reports that Finnish officials have become increasingly reluctant to participate in bank aid efforts amid the ongoing euro crisis unless aided countries provide some sort of collateral.
Finland has managed to maintain a triple-A credit rating despite the recent global economic woes.
However the Scandinavian country has finally joined European officials to provide Spain with a EUR 100 billion aid package following Tuesday's deal. Finnish finance minister Jutta Urpilainen told reporters that she was, "very pleased with the results", according to the AFP.
An official statement released by the Finnish finance ministry said, "In the collateral arrangement, the Spanish Deposit Guarantee Fund provides Finland with collateral, in order to limit the risks for Finnish taxpayers in the issuing of loans to the stabilisation programme," the AFP reports.
The deal is reportedly similar to the one reached between Helsinki and Athens last autumn. Finnish officials added, "Also in this case, collateral is set [against] a 40-percent presumed loss, which is based on ratings by Standard & Poors' historical data based on an estimate of the expected loss in the case of insolvency."
Meanwhile, the YLE news agency reports that in exchange, "Finland abandons a part of the interest generated profit margin of the Spanish loans".