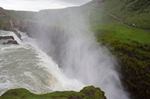 Iceland has been the subject in a recent travel article published in the UK newspaper Daily Mail by the world-renowned supermodel Elettra Wiedemann, where she explains her love for the country, its nature, and her new popup restaurant, Goodness.
The American-born model described Iceland as being her kind of country, "a place where I can drink water that comes from glaciers, swim in natural pools of warm water and bathe in hot, bubbly springs". She carries on to say that when she's in Iceland she feels an overwhelming connection to nature, and the relishes in the therapeutic happiness that comes with it.
According to the article, Wiedemann visited Iceland for the first time in 2011, where she fell in love with the country. She states, "It is as if you're on another planet, and it has a strange effect on the mind."
She also explains that food in Iceland is what brought her back, explaining that it's fresh and healthy, with lots fish quality fish dishes. Her trip this time around was due to her opening a new pop-up restaurant, Goodness, at the Icelandair Hotel Reykjavik Natura.
"During New York Fashion Week in February I set up a Goodness restaurant, and it was such a success that I thought it would be good to do one in Iceland to tie in with the March Design Festival, which is attended by legions of glamorous people. We served dishes such as sweet potato soup with soured cream, chicken harissa with red grapefruit salad, poached ling, and a 'super-juice' made from apple and fennel," Wiedemann explains.
The supermodel's love for Iceland's geothermal hot springs was expressed when she visited the popular Laugarvatn Fontana geothermal baths and steam rooms. She mentioned that the bath's interconnected rooms are built over a natural hot spring and the temperature in the rooms varies depending on the weather.
Additionally on her journey, Elettra Wiedemann took a speedboat trip to Westman Islands, where saw the famous Eldfell volcano on the island of Heimaey. "The volcano is still steaming after its eruption in the early Seventies. But it was the thousands of puffins that drew me in. I thought puffins were big, but actually the reverse is true," she said.
To read the article in full, click here.