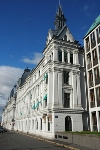 Officials in Norway are reportedly looking to sell off a building used for torture during WWII.
The Victoria Terrasse in Oslo is now owned and used by the Norwegian Ministry of Foreign Affairs. It was also once the home of local playwright Henrik Ibsen, but was the target of allied forces bombings during WWII, although the structure still stands and the majority of its 1890s interior remains original.
One bomb aimed at the structure incidentally struck a nearby tram and killed 105 people, including 78 Norwegian civilians, in one of the deadliest days in the city's recent history.
The building's façade was rebuilt in the 1960s and has been used largely for government purposes ever since.
Now officials say that they are considering a number of different options for the future of the building, including one plan that will see the facility turned into more than 200 apartments that would sell for some NOK 100,000 (EUR 1,335) per square meter, according to the NRK news agency.
Local expert Torbjørn Ek said of the structure, "Its architecture is fantastic and incredibly important. It's got a view, sun, there's very little noise, and it's attractive, size-wise," NRK reports.
Meanwhile a spokesman for the Ministry of Foreign Affairs said that no final decisions have yet been made regarding the sale. He added that the move comes following last year's bombing, which has prompted a reshuffle of the organisation's facilities.