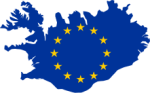 Iceland has taken another step towards EU membership but admits the contentious issue of fishing quotas is likely to slow down its fast progress. Three more 'chapters' required to be passed into law for membership were opened at a meeting between the 27-bloc union and Iceland in Brussels on Friday (June 22).
So far, Iceland has opened 18 of the 35 required policy chapters, with financial control, social policy and transport the latest to be added. A total of 10 have been completed since negotiations for membership first began in June last year, with many needing very little work thanks to Iceland's existing membership to the European Economic Area.
"This is the fastest that a candidate state has moved since 2006," EU enlargement commissioner Stefan Fuele said after Friday's meeting.
However, Icelandic foreign minister Ossur Skarphedinsson admitted that the issue of fishing rights may take longer to resolve. Fishing is a major source of revenue for the North Atlantic island, but the EU is opposed to Iceland's whaling tradition and also its move to multiply its catch quota in the so-called 'mackerel war.
"We stand ready to put forth our negotiating position, and we are really itching to start scratching the surface of the problem," Skarphedinsson told a news conference. "It will be a difficult problem, it will take time and therefore the sooner we can start tackling it, the better," he added before calling for "creative and innovative" solutions.