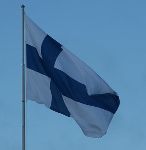 The Finnish government has postponed a decision about whether or not to take part in the joint monitoring of Iceland's airspace as it mulls the possibility of law changes and waits for Sweden to make its move.
The subject of international collaboration to protect Icelandic airspace has prompted accusations in the Finnish media that participation would bring the country a step closer to NATO membership, although this is vehemently denied by President Sauli Niinistö.
Speaking at a meeting of the Ministerial Committee on Foreign and Security Policy (UTVA) on Thursday (June 14), Niinistö said the decision will be postponed at least until the autumn as it waits to see how Sweden will act.
"This is a joint Nordic project and it is of great significance what Sweden decides to do", said a senior Defence Ministry official Esa Pulkkinen. Niinistö later told broadcaster YLE that Finland will only be taking part if Sweden does the same.