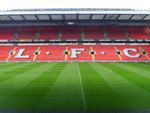 Icelandic football ace Gylfi Sigurdsson has stated that he may move to Liverpool instead of Swansea after manager Brendan Rodgers switched to the reds. Last week the star midfielder agreed to move permanently to Swans in a deal worth £6.8 million, but he says he may now consider following Rodgers to Anfield.
Speaking to mbl.is, Sigurdsson, who has enjoyed playing for the Welsh team on loan for the last half of the season, said, "It's just unclear at this moment where I will play. I'd like to play on with Swansea since I was really happy there but after Brendan Rodgers left the club for Liverpool that changed the situation.
"I expect not to stay at Swansea because of the uncertainty going on there as it is not clear who is boss. I have said that my desire [is] to continue playing in the Premier League, and Liverpool is completely considered. Liverpool is a big club that has a glorious history," the footballer added.
Sigurdsson also admitted that he has spoken with Rodgers since he was installed as Kenny Dalglish's successor. "I got in touch with Brendan when he was appointed Liverpool manager,' he said. "I wished him congratulations and thanked him for a great time at Swansea."
Rodgers has also revealed to the press that on his departure he promised Swansea chairman Huw Jenkins that he would not poach any of the club's players. However, he said he believes Sigurdsson is still fair game as the deal has not yet been set in stone.
"It's now down to Gylfi," the Rodgers said. "I have told Huw that if I speak to the kid, I will make sure he definitely goes down to Swansea and speaks to the new manager, whoever that is. But if Gylfi is not comfortable with that and he comes back on to the market, then I have to be interested," he added.