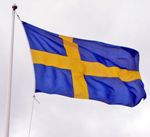 Two men suspected of swindling as many as 150 elderly people by posing as their grandchildren have been arrested in northern Sweden. Police believe they stole over SEK 1 million (EUR 111,156) in cash and jewellery from senior citizens in the north and east of the country.
"They have been very cunning and have played on weak points," Mikael Hedström of the Gävle police said in a report by Hudiksvalls Tidning newspaper. "They'd done their homework. If the woman had a grandchild called Kristoffer, then the caller would ring and said 'Hi Grandma, it's Kristoffer,'" he added.
After the news of the men's March arrests was made public, more suspected victims have come forward, with police estimating that as many as 150 people may have been conned by the pair.
According to the newspaper, one 98-year-old woman dished out SEK 40,000 (EUR 4,447) in cash, as well as jewellery worth SEK 10,000 (EUR 1,112), which she thought was going towards buying her grandson a car.