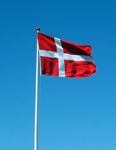 Four men have each been sentenced to 12 years in prison after being found guilty of planning a terrorist attack against Danish newspaper Jyllands-Posten. Munir Awad, Zalouti, Mounir ben Mohamed Dhahri and Omar Abdalla Aboelazm were arrested in Copenhagen in December last year after driving from Stockholm in a car packed with weapons, ammunition and plastic handcuff strips. The fourth man, Sahbi ben Mohamed Zalouti, was intercepted the following day in Sweden and extradited back to Denmark.
The Municipal Court in Glostrup accepted that the men – all of who lived in Sweden but originally came from Egypt, Tunisia and Lebanon – planned to kill as many people as possible at a sports ceremony at JP offices due to be attended by the Crown Prince Frederik. The newspaper has been the target of Islamic militants since 2005 when it published 12 controversial cartoons of the holy Muslim Prophet Muhammad.
Court president Katrine Eriksen said that although a technicality meant the men were found not guilty of two charges of weapons possession, it had been "proven that they intended to kill" and frighten Danish citizens.
According to intelligence officials from Denmark and Sweden, the men were being tracked for months before their arrests.