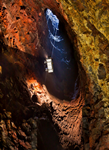 Tourists visiting Iceland this summer have the opportunity to experience a unique volcano tour in the interior of Þríhnúkagígur, a volcano that has been dormant for roughly 4,000 years.
The site is only 25 minutes' drive from the capital Reykjavík, but once there visitors must trek for 40 minutes across a lava field to reach the volcano's summit. They will then take an open cable lift 120 metres down to the bottom of the crater before beginning the hour-long tour with a team of expert guides.
The volcano is the only place on earth where the magma chamber is accessible and currently safe to explore. The size of its chamber is enormous; the ground space is roughly the size of a football pitch. The distance from top to bottom is about 150 meters (450 ft.).
The tour will be operated from June 15th to July 31st with several confirmed departures each day during that period. The tour is operated in small groups and takes approximately 5-6 hours to complete, including up to one hour inside the volcano.
Iceland's leading airline Icelandair, in-conjunction with www.insidethevolcano.com, is offering tours to the Þríhnúkagígur volcano as an add-on option for any of the airline's current package deals.
A selection of Icelandair's package deals can be found via the link http://www.icelandair.co.uk/offers-and-bookings/, and for more information regarding the volcano tour as an add-on option, click here.