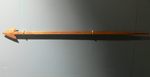 Environmental groups have welcomed the news that Iceland's lone fin whaler is abandoning the hunt this year. Kristjan Loftsson, who has harpooned 280 of the gentle giants over the past six years, told the local media that he will not be participating in this year's season.
Loftsson's commercial whaling activities have put Iceland in Barack Obama's bad books, with the US president announcing last year that the country could face numerous diplomatic measures if it continued with the cruel practice. Earlier in the year the Pelly Amendment was invoked by US Secretary of Commerce Gary Locke, who condemned Iceland for disregarding the global ban on commercial whaling.
Loftsson, who exports the meat to his own company in Japan, apparently made his decision after failing to agree with the Association of Icelandic Fishermen about conditions and salaries for deckhands working onboard his ship. According to media reports, he also claims the Japanese demand for whale meat has not recovered after the 2011 tsunami.
The International Fund for Animal Welfare (IFAW) has welcomed the news, but pointed out that minke whales are still being slaughtered in Iceland.  Last year, the two Icelandic companies that hunt the whales caught 58 minke, while the first victims of this whaling season were harpooned in recent weeks.
IFAW last year launched a 'Meet Us Don't Eat Us' campaign in Iceland, aimed at encouraging tourists to avoid eating whale meat and to support whale watching and conservation schemes. It also hopes to convince whalers that conservation activities are a profitable and sustainable alternative to hunting.
Robbie Marsland, UK Director of IFAW, said, "We are delighted to hear that no more fin whales will be cruelly and needlessly slaughtered in Iceland. We are also pleased to hear Mr Loftsson acknowledge that this outdated industry is uneconomic. This is exactly what IFAW-commissioned research has shown over recent years; it is just a shame that 280 fin whales had to die in this failed commercial experiment."