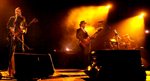 Icelandic hit band Sigur Rós are to return after a four-year break with a new album entirely in Icelandic. The four-piece group, which became famous worldwide for their songs in Vonlenska, a made up musical language, said they are moving in a new direction, although they will still play popular hits such as Hoppípolla at live shows.
"We've kind of left it behind," 37-year front man Jónsi Birgisson told the BBC. "I think at least where I am now, it's more exciting for us to have lyrics."
Speaking about their return after such a long break, he added, "We haven't played together for four years because we've been on a big break so it is fun – and funny – to start playing again. It's going to be exciting. It's kind of like coming back home in a way. It's really fun to meet the guys again."
The band released their last album in 2008, after which Jónsi concentrated on his solo career and the other members spent time with their families.
"When you're by yourself there's so much more responsibility," said Jónsi. "You have to make all the decisions yourself. Now I have the other guys with me to share the responsibility, make decisions and give creative feedback."
The new album, Valtari, which was recorded in a converted swimming pool near Reykjavík and mixed in Jónsi's attic, features some songs that were written as far back as 2002.
"We had it in the back of our brain to do this kind of album for many years but we've never done it," explained Jónsi. "There's been a lot of stopping and starting and it's been confusing. It's quite scatter-brained I think."
"It's definitely more sombre, sadder and darker than the two previous albums," he added.