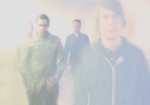 Iceland Airwaves is proud to announce that Sigur Rós is returning to the festival. It's been 11 years since Sigur Rós last performed at Iceland Airwaves, after coming to international prominence with their second album 'Ágætis Byrjun'.
In their first hometown show for four years, the band will close the festival with a performance at the new Laugardalshöll Arena on Sunday November 4.
Tickets for the Sigur Rós special performance at Iceland Airwaves go on sale Wednesday May 16 at 12 noon GMT via midi.is.  They will be available at the special low price of 3,900 ISK to anyone holding an Iceland Airwaves ticket, on a single-ticket, first-come-first-served basis until June 16. A coded link will be sent to everyone who has purchased an Iceland Airwaves ticket on Monday May 14. General admission tickets will be available at 5,900 ISK. Package deals with Icelandair are also available from May 16.
Coming on the back of a globetrotting festival run, and set to feature an expanded 11-piece line-up, the show will see the band pulling material from their entire catalogue, including the forthcoming sixth studio album, 'Valtari'.
Icelandair and packages deals:  http://www.icelandair.co.uk
Iceland Airwaves and tickets: http://www.icelandairwaves.is
Sigur Rós: http://www.sigur-ros.co.uk