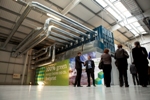 National High Performance Computing (HPC) organisations of Denmark, Norway, Sweden and Iceland have pooled resources and powered up an innovative joint supercomputer in Iceland. It is innovative not so much for its technology, but for its concept, placement and operations. The supercomputer is hosted in the Advania Thor Data Center in Iceland, a new environmentally friendly "green" data center.
The computer is part of a pilot initiative aiming to test remote hosting, such that computing is brought to the energy source and not vice versa, as is the norm, thereby introducing substantial savings. Further aims are to understand the political, organizational and technical aspects of joint ownership, administration and operation of such expensive and strategic infrastructure.
Due to growing power consumption, supercomputing costs are an increasing economic burden for researchers and their universities. Iceland is an attractive location, with powerful natural resources providing very low-cost electricity and cost-efficient cooling solutions. The Scandinavian countries spend millions of Euros every year on supercomputers and their electricity consumption.
"Supercomputing has become fundamental for science and innovation, yet when the cost for hosting and operations is becoming comparable to the costs of hardware, and investments are increasing, we need to look into cost efficient solutions", says Jacko Koster, director of UNINETT Sigma.
Added to this economic incentive is of course the environmental one. Supercomputers entail a large CO2-footprint when fossil energy sources are used. In Iceland, energy is produced not only at low cost but also from CO2-neutral renewable hydro- and geothermal energy sources. Due to Iceland's geographical location, it is not feasible to transfer electricity to Europe. Hardware, however, can be moved, and so can data, via the trans-Atlantic fibre optic data-network infrastructure.
In the long term, joint large scale procurements and energy efficient placement of supercomputers will be increasingly advantageous for the Scandinavian countries as well as to Iceland. It increases value for money as well as the possibility to develop new advanced competencies within shared operations of remote computing.
The project is the result of collaboration between the Danish Center for Scientific Computing (DCSC), the Swedish National Infrastructure for Computing (SNIC), UNINETT Sigma and the University of Iceland.
The system is delivered by Hewlett-Packard, via Opin kerfi and has 3456 compute cores, in 288 nodes. Project management, installation, implementation and the testing of equipment was of the Opin Kerfi and HP experts' responsibility. The solution fulfilled all the requirements set out in the project scope.
For more information, visit http://nhpc.hi.is.