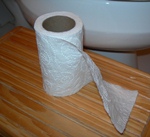 Toilet paper could be wiped off the shelves in Sweden after a labour union threatened to block deliveries from factories in solidarity with workers who are campaigning for higher pay. The Papper labour union said the planned action on April 23 would be in support of wage negotiations between the Svensk Handel retail employers association and the Commercial Employees' Union (Handels).
"We're going to block goods from leaving factories in Lilla Edet, Marestad, Pauliström and Nyboholm," Matts Jutterström of the Pappers labour union told Dagens Arbete.
Handels and Svensk Handel have failed to reach an agreement about wage increases, with workers calling for a 4.5 percent pay rise but the employer currently only offering 2.6 percent. If the delivery strike goes ahead, many Swedish stores, including Clas Ohlson, Ikea, Lindex, Bauhaus and Willys could be affected.
Byggnads, the construction workers' union, also said its members would strike on April 20 in a show of solidarity. "It's obvious that we as construction workers must support our wives, girlfriends, daughters and friends in their fight for equal pay," Byggnads negotiating representative Torbjörn Johansson said in a statement.