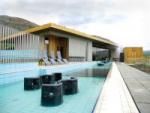 Leading Iceland tour operator Reykjavik Excursions is now offering day trips to Fontana geothermal spa in Laugarvatn, Iceland.
The Fontana geothermal spa tour takes visitors to Laugarvatn, about a 60 minute drive from Reykjavik, where the luxurious Fontana spa is located.
For almost a hundred years, Laugarvatn locals have been enjoying the healing powers of the natural steam baths, where geothermal heat simmers directly from the ground.
Fontana is composed of a series of interconnected baths and steam rooms, specially designed to create a unique experience. Grates in the floor of the steam rooms allow guests to see the natural hot spring as it flows under the rooms straight from the ground, creating a natural experience.
The tour also takes visitors to Thingvellir National Park, where the Eurasian and North American tectonic plates meet. Thingvellir is also a site of great historical and cultural importance as Iceland's first parliament was established there around 930.
Reykjavik Excursions operates one of the biggest bus fleets in Iceland making the company one of the largest organisers of tours both for individuals and groups in Iceland. All of Reykjavik Excursions' tours are guided by professional guides in English, and many are also guided in German, French and Scandinavian.
Visit www.re.is to book a Fontana geothermal spa tour and to find out more about other tours in Iceland.