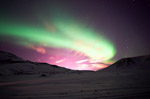 An incredible Northern Lights time-lapse video, using found footage taken aboard the NASA International Space Station, has sparked massive interest for viewing the Aurora in Iceland.
The video edited by Michael Konig, taken from images captured by the Expedition 28 and Expedition 29 crews aboard the NASA International Space Station, shows breathtaking explosions of red and green Auroras filling the Earth's atmosphere, over shadowing the city lights below. The footage covers the journey of the manned satellite during 18 different passes over various parts throughout a three-month period.
These incredible images have sparked a huge interest for spotting the Northern Lights in Iceland this winter. Due to the country's location on the cusp of the Arctic Circle, the island in the Atlantic is the perfect viewing location the see one of Mother Nature's greatest spectacles.
Iceland tour provider Reykjavik Excursions offers an exciting Northern Lights tour for stargazers to view the dancing lights for themselves. Passengers are picked up from their hotel and driven to an area outside of Reykjavik to search for the natural phenomenon. Every tour is different since the leader takes the group to the area where they are most likely to see the lights that day based on weather.
To find out more regarding Northern Lights tours in Iceland, visit www.re.is.