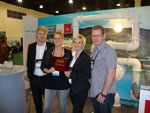 On Wednesday 26th October, Islandsbanki and Glacier Securities won the 'Best in Show' audience choice award for its booth at the geothermal energy conference, Geothermal Energy Expo in San Diego, California. This annual event is the largest geothermal energy conference and exhibition held in the United States.
Islandsbanki received the most votes cast by the audience for its exhibition booth at the energy conference. In attendance at the booth were Islandsbanki's Geothermal Team: Executive Director, Arni Magnusson; Manager, Hrefna Bachmann; Analyst, Sigurjon Magnusson; and Ingibjorg Magnusdottir of marketing, as well as the Director of Islandsbanki's Corporate Marketing, Ragnar Mar Vilhjalmsson who prepared the stand.
Arni Magnusson, Executive Director of the Geothermal Team, explained, "It is a great honour to receive the audience choice award for our booth as voted for by the members of the geothermal industry. We are now looking forward to the bright future of the U.S. geothermal industry, and our participation within it."
During the energy conference the bank released its fifth annual United States Geothermal Energy Market Report, focusing on the operations, developments and challenges facing the U.S. geothermal energy industry, as well as presenting estimates on capacity additions and financing needs for the next five years – This report is now online via the bank's website.
In addition, Islandsbanki maintains an online global overview of the geothermal industry. The bank's Geothermal Industry Dashboard contains in-depth information on the sectors in Iceland and the United States, which can be viewed here.
Glacier Securities is a subsidiary of the Icelandic bank Islandsbanki who specialises within the geothermal industry.