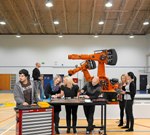 Asbru Enterprise Park is on the forefront of entrepreneurship, business and academic development in Iceland, with focus on technology, renewable energy, medical tourism and engineering. The Keilir: Atlantic Center of Excellence, located within the park, offers dedicated educational programs and flight training, whilst Iceland's first data centre and other ventures such as medical tourism are also innovating in their field.
The enterprise park is located on the former NATO defence area in Keflavik, Iceland. When the U.S. Military left the area, Kadeco, Keflavik Airport Development Company, was established with the task of converting the base and its facilities into area for civilian use.
Since, the development company specialised in real-estate development, competitiveness and entrepreneurial development, has led the transformation of the ex-military navel base into the Asbru Enterprise Park.
A medical tourism hospital specialising in weight loss surgery, joint replacements and other medical developments opened just last year. The hospital houses around 35 beds, three operating theatres and all together has the capability of treating up to 4,000 patients per year.
In addition, Asbru offers business offices of varying size, ranging between 15-60 square metres with the option of divided or combined open spaces. Companies have access to fully equipped 40 square metre meeting rooms and two smaller meeting rooms as well as a 100 square metre kitchen facilities.
Amongst some of the companies located in Asbru offices are innovative and ancillary businesses such as engineering firms and agencies. This creates a great working environment where businesses can receive help from other services within the same walls.
Furthermore, Asbru Enterprise Park's location is an extra advantage as Keflavik International Airport, which has direct flights to major cities such as London, Copenhagen and New York, is just a 5 minute drive away.
To find out more regarding the Asbru Enterprise Park, visit http://asbru.is/English/.