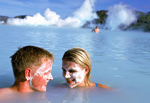 With only five hours of flight time from the east coast of the U.S., it's easy to escape the rat race and unwind in the 'land of fire and ice', Iceland. Fortunately, Icelandair, Iceland's leading airline, is offering special spa vacation offers to Iceland for those looking to take a break from it all.
As featured on Travelzoo and ShermansTravel, Icelandair is now offering a relaxing Spa City Break including round-trip airfare, 3 nights hotel at the 4-star Hilton Reykjavik Nordica, breakfast, transfers, a trip to the world famous Blue Lagoon and admission to the Nordica Spa.
The wonderful island of Iceland is known for its natural hot springs and spa culture, which is widely celebrated across the country. One of the nations' favorite pastimes is chilling out in the various hot pots dotted across the island's townships, especially in Reykjavik, Iceland's capital.
There are also numerous natural hot pots located in the Icelandic wilderness. Many of these natural sites are open to the public and can offer an incredible experience rejuvenating and relaxing in the beautiful surroundings of the Icelandic landscape.
Furthermore, try rejuvenating in the geothermal spas at the famous Blue Lagoon, only 40 minutes drive from Reykjavik. The lagoon is a unique wonder of nature with pleasantly warm mineral-rich geothermal water in the middle of a black lava field. The high natural levels of silica and minerals give the Lagoon its rich blue color.
Facilities include modern changing rooms, showers, an outdoor geothermal pool, restaurants and shopping. A visit to the Blue Lagoon is both invigorating and exciting whether bathing in the unique surroundings or indulging in spa therapy treatment in the luxurious and modern facilities.
For more information on the Icelandair Spa City Break contact your travel agent, call (800)223-5500 or go to www.icelandair.us.