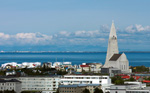 For a limited time, Icelandair is giving U.S. passengers the opportunity to create a custom Iceland vacation at a very special price. The Icelandair 'Build Your Own Special' includes airfare, hotel accommodation and the ability to choose from three great value tours while in Iceland.
Tours to choose from include The Reykjavik Greater Area Tour, where travelers get the opportunity to see some of Reykjavik's greatest landmarks; The Blue Lagoon Tour, where visitors can bathe in the milky blue-green water, relax in a geothermal steam bath or relieve some stress in the calming Blue Lagoon waterfall; and The Reykjanes Peninsula Tour, offering a unique journey through lava fields and volcanic landscapes.
Tours can be chosen before departure, or at the hotel on arrival; however, tours must be reserved no later than one day before scheduled departure.
The Build Your Own Special must be booked by April 4, 2011. Prices start at just $599 with flights to Iceland from New York – JFK and Boston Logan departing in May and June.
For more information or to book this special Iceland Vacation offer, visit Icelandair at http://www.icelandair.us/offers-and-bookings/book-packages/package/item498032/Iceland_-_Build_Your_Own_Special/
Icelandair offers service to Iceland from Boston, New York-JFK, Seattle, and seasonal service from Washington, D.C., Minneapolis – St. Paul, Orlando Sanford, Halifax and Toronto. Connections through Icelandair's hub at Keflavik International Airport are available to over 20 destinations in Scandinavia, the U.K. and Continental Europe. Icelandair also allows passengers to stopover in Iceland at no additional airfare.