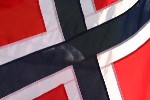 Norway's foreign minister has announced that the country will be among the first to recognise a Palestinian state if negotiations with Israel fail to make headway by September. A nine-month deadline has been set by the Palestinians for proclaiming independence, which would also coincide with the completion of Prime Minister Salam Fayyad's two-year effort to set up the basic institutions of a state.
Speaking in Ramallah, Norwegian foreign minister Jonas Gahr Stoere said Oslo is striving to help with the development of the Palestinian economy but still believes that the political process towards peace could be a success.
"We are working to develop the economy of Palestine to reach that goal," Stoere told reporters.  "If, by August or September, there is no progress on the political track, I think the climate will change," he added.
When asked if Norway would recognise a Palestinian state after that point, Stoere said, "Norway will be among the first states [in Europe] who will recognise a Palestinian state when there is an act as an international team" to that end. Until then, he went on to say, Norway will continue to back negotiations between the two warring nations while supporting Fayyad's plan.
Norway's foreign minister, who heads a committee in charge of raising international aid for Palestine, also told reporters in Jordan last week that Norway is committed to rallying donors to help build Palestinian institutions.