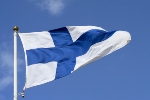 Three people have been remanded in custody after the body of a 25-year-old woman was found stuffed into a large sports bag by the side of a road. The grisly discovery was made by a passerby on Saturday (January 16) on the edge of a remote forest in the Taka-Keljo district of Jyvaskyla.
It is thought that the woman, from Lahti, was killed in an apartment in the Pupuhuhta district on Wednesday night and driven to the dump site several kilometres out of the city. She is believed to have been married with one young child.
A 19-year-old Jyvaskyla man is being held by police suspected with probable cause to murder the woman. The Central Finland District Court also remanded the 37-year-old occupant of the apartment where the slaying is thought to have taken place and his 39-year-old common-law wife on suspicion of the killing.
The forensic results of the investigation, which has attracted considerable attention in the Finnish media, are expected this week. Police have been given until January 21 to present further evidence to the court.
Violence in the area has reached the news previously with three dying in a shooting almost two years ago to the day of the latest killing. A man was also injured in a shooting in 2009 and another was stabbed to death in 2008.