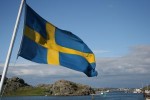 A 24-year-old Swedish man could be named as the country's worst serial rapist after admitting to four more attacks while being held for a string of offenses. The man from Orebro, central Sweden, is already under suspicion of 10 assaults against women and will face a detention hearing this week.
While in custody, however, he has confessed to four more attempted rapes, assaults and sexual molestations against women in cases stemming from 2005 to 2008 and October 2010. "I want him detained on probable cause for the new offenses," said deputy chief prosecutor Pia Asberg on Monday, January 10.
In addition, the man admitted to seven of the assaults in November for which he is being held. He was taken into custody in October last year after cancelling a planned DNA test with police.
He is also thought to be behind two more attacks which occurred just one day before his arrest. If found guilty of all the crimes for which he is suspected, the man would become the worst serial rapist in Swedish history.