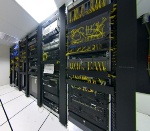 The Icelandic parliament recently approved amendments made to the Value-Added Tax Act that will consequently benefit Iceland's data storage industry. The amendments will put data center services in Iceland on the same footing as other European centers regarding VAT on exported services and equipment owned by clients.
Katrin Juliusdottir, The Minister of Industry, Energy and Tourism in Iceland, described this as an important development, and said when the bill was passed that it marked the beginning of a promising new green industry for Iceland, based on know-how, skills and sustainable energy.
The Chairman of the ICEDC (Icelandic Data Center Association), Fridrik Snorrason said, "These amendments will illiminate what was hindering the development of the data center industry in Iceland and consequently the industry will be a lot more competitive. The tax law basically levels out the playing field and puts us on the same level as our European competitors. This also means that Iceland will be able to use its natural advantages and attract business to the country."
Due to the fact that the Iceland data storage industry has only been set on the same competitive footing as its competitors in other countries, it has been emphasised that this does not constitute state aid in the sense of Article 61 of the EEA Agreement.
The amendment will not take effect until 1 May 2011 in order to observe the strictest caution and avoid infringement of the procedural rules of the EFTA Surveillance Authority (ESA). This gives the Government time to inform ESA of the changes and receive its confirmation that no unlawful state aid is involved.
As is common with innovations in Icelandic legislation, provision has been made for a review of the amendment within two years. An assessment will then be made of whether the new legislation has produced the desired result or whether further measures need to be taken.
For further information on data centers in Iceland and investments, visit www.invest.is