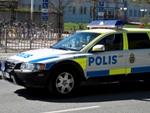 A 51-year-old man has been given a reduced sentence after tipping off police about a large quantity of opium hidden in his home. The man from Umea, northern Sweden, was given 10 rather than 14 years in jail as police only solved the crime thanks to his cooperation.
According to local newspaper Vasterbottens Folkblad, the 51-year-old was originally arrested last month for being under the influence of narcotics. When police later searched his home and found several grams of opium, he then volunteered to show them another kilogramme hidden under his sink.
Police also found a bag containing SEK 712,000 (USD 100,000), which the man claimed were recovered funds he was keeping for someone else. In addition, he apparently revealed that he regularly buys and sells opium to people in Umea.
At his trial, however, the defendant denied that he had ever been involved in the sale of the drug and claimed he does not smoke opium himself because of medical reasons. Despite this, the district court ruled with the prosecution that, given the amount of money in the bag and the price of opium on the street, the man had sold three kilograms of the drug.