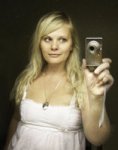 Icelandic graphic designer and digital artist, Olof Erla Einarsdottir has just been nominated for a David Gemmell Legend Award for her cover design of 'Power and Majesty' by Tansy Rayner Roberts.
Olof Erla's powerful and distinctive design earned her a nomination in the 2010/11 RAVENHEART Award for best Fantasy Book Jacket/artist category.
"My inspiration for it came from the writer, she told me in few words what she wanted so see and I played off that until everybody was happy with the outcome," commented Olof Erla.
Olof Erla graduated from the Iceland Academy of the Arts (IAA) in May 2002 with a Bachelor degree in graphic design. She currently resides in Reykjavik, Iceland and works as a graphic designer for The Icelandic National Broadcasting Service, as well as taking on creative freelance work.
To view the full list of nominees in the David Gemmell 'RAVENHEART Award' category, click here.