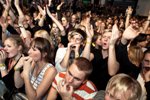 A total of 2,215 foreign guests attended last month's Iceland Airwaves music festival, which is a 33 percent increase in comparison to 2005's event, according to a recent survey conducted by Iceland Music Export and Hofduborgarstofa, a department of Reykjavik City Council.
Foreign visitors made up 48 percent of the total number of those who attended the festival this year and they stayed an average of five and a half nights in Iceland.
In the survey, visitors were asked to how much they spent on accommodation, food and restaurants, nightlife, transport, trade and so on. The survey concluded that foreign guests spent a total of ISK 313 million (USD 2.7 million) in Reykjavik during their stay, not including flights; which is an average of ISK 25,000 per person (USD 221). The total cost of flights to Iceland is estimated at around ISK 130 million.
According to the survey, 73 percent of foreign visitors expressed that the Iceland Airwaves festival was the primary reason for travelling to Iceland. Additionally, 98 percent of survey participants said that they were very satisfied with the music festival and their Iceland experience overall.
A similar survey was conducted in 2005.