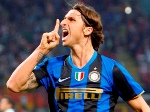 Dagens Nyheter reports that the Swedish football player Zlatan Ibrahimovic was awarded with Guldbollen (the Golden Ball) at the Swedish Football Gala on Monday. Guldbollen is awarded to the best male Swedish footballer each year and this was the fifth time that Ibrahimovic has won the award.
Ibrahimovic was met with seemingly endless applause at the event as his Italian team AC Milan recently beat Inter in one of the famous Milano derbies. Ibrahimovic jokingly commented that he will retire when he is no longer given the award.
In February 2009, Ibrahimovic became one of the two highest-paid football players in the world; the other being Kaka. They both had a yearly salary of €9 million. Ibrahimovic also holds the record for the second highest transfer fee in football history. His transfer fee from Inter to Barcelona was €69 million.
Throughout his career, Ibrahimovic has played for Ajax, Juventus, Inter, Barcelona and now AC Milan. He began his career in Malmo FF.