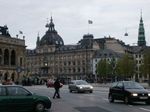 A terrorist, who is being charged with planning to bomb Denmark's Jyllands-Posten newspaper, has revealed his group plotted several other attacks in the country, according to reports. David Healey, who was arrested in 2009 in Chicago, apparently told interrogators that he discussed general targets in Copenhagen with terrorist mastermind Ilyas Kasmiri during a meeting in Pakistan.
Healey, who has since admitted to taking part in the 2008 terror attacks in Mumbai in which 166 people died, was found with film footage of Copenhagen Town Hall Square, the city's main railway station and the Royal Lifeguards Barracks at the time of his arrest.
According to a report received by Jyllands-Posten, Healey told investigators, "During the meeting with Ilyas Kashmiri, I was asked to concentrate my efforts on an attack against Denmark as soon as possible."
Healey also attempted to recruit people to his cause from the United Kingdom and Sweden, according to the documents. A Swede apparently refused to take part but it is not clear whether individuals from the UK accepted or what stage the plans reached.
Lars Elslev, a researcher from the Danish Institute for International Studies, explained why Jyllands-Posten, which printed several controversial drawings of the Muslim Prophet Muhammad in 2005, was not necessarily the only target.
"Jyllands-Posten has major symbolic value, but it is not certain that it would make much difference if an attack took place somewhere else in Copenhagen. That is the thinking behind it," said Elslev in a report by Politiken.