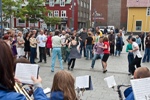 Leading global travel guide, Lonely Planet recently announced Iceland as a top summer travel destination for August. Lonely Planet is encouraging travellers to visit the land of fire and ice as 'there really has never been a better time' to go. This is due to the favourable exchange rate for visitors, making prices more affordable than ever, and flights to Iceland resuming as normal after the ceasing of the Eyjafjallajokull volcano eruption.
At the end of last year, in the Lonely Planets's fifth annual collection of the world's best destinations for the coming year, Iceland ranked in the top ten for best value places to visit. However, this new recommendation comes from the January issue of Lonely Planet's monthly magazine proclaiming Iceland as one of the 'Perfect Trips for 2010'.
Lonely Planet, in particular recommends Iceland's capital city, Reykjavik, describing it as the perfect location for those wishing to enjoy 'endless' summer evenings. The travel guide also acknowledges Iceland's great summer weather, explaining how the country blossoms after hibernating for half the year.
With this good weather comes the accessibility of the interior roads, that are usually closed during the winter – Lonely Planet recommends taking a road trip to the hot springs and pastel mountains of Landmannalaugar, a geothermal area in the southern highland or taking a boat ride to see thousands of puffin chicks take flight around the magnificent Vestmannaeyjar islands off the south coast.
Lonely Planet is the largest travel guide and digital media publisher in the world. It has published over 500 titles in eight different languages with annual sales of six million guidebooks as well as TV programmes, a magazine, mobile phone applications and websites.
For further information on holidays in Iceland and flights to Iceland visit www.icelandair.com
Photos: Oli Kristinn (http://flickr.com/olafur)