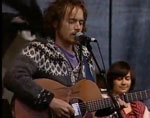 The 'Iceland Inspires' concert held in Reykjavik on Thursday 1st July, featuring Damien Rice, proved to be a huge success as the live web cast, via the Inspired by Iceland website, received over seventy thousand visits from fifty-two countries, RUV reports.
The open-air concert was streamed live over the Internet, giving viewers the chance to watch the monumental event from anywhere in the world. In addition, over five thousand music lovers braved the rain to experience the concert firsthand.
"It was wonderful to see so many people supporting Iceland, and the campaign, despite the unfavourable weather. Reykjavik is such a fun town, and a great location for live music," commented attendee Russell Harmon, a British ex-pat and musician.
Amongst Damien Rice, Spiritualized, Seabear, Amiina, Dikta, Glen Hansard, Hafdis Huld, Hilmar Orn Hilmarsson, Mammut and Pall a Husafelli also performed.
Inspired By Iceland is a tourism campaign that was set up to help promote Iceland after the number of visitors to the country dropped due to the recent Eyjafjallajokull volcano eruption. The campaign intends to show the rest of the world that Iceland is still a safe place to visit and is more alive than ever.
Highlights of the concert, including pre-recorded footage from For A Minor Reflection, Retro Stefson, Gus Gus and Hjaltalin, are all available on www.inspiredbyiceland.com.