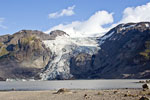 Will Iceland's Eyjafjallajokull become as popular with tourists as Mount Vesuvius? Maybe it will according to travel writer Simon Calder during an event held by Icelandair in Reykjavik today; an idea to bring positive media attention to the country and potentially getting people to be 'inspired by Iceland'.
During the event titled 'Iceland: The Greatest Show on Earth' Simon Calder pointed out that the ongoing Eyjafjallajokull volcanic eruption could potentially turn into a greatly sought-after tourist attraction, similar to that of Mount Vesuvius in Italy and other popular volcano sites. Simon also mentioned that Eyjafjallajokull had claimed the media spotlight as the world's best-known volcano, and that maybe the two should team up to dominate the global tourism industry, complete with televised ash swapping ceremonies.
At the moment there are daily volcano tours to see the Eyjafjallajokull eruption, but once it calms down in the near future, the crater site in southern Iceland could be the next 'hot' destination to visit. Tourists will then also have the opportunity to vent their frustration on the dastardly rock that caused so many flight disruptions or maybe just take a few photographs.
Simon Calder currently writes for The Independent, Sky Travel and BBC Radio amongst others and as a speaker on the direction and development of tourism around the world he is highly in demand.