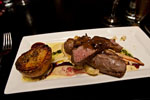 Despite the recent economical problems, affordable restaurants have been on the rise throughout Iceland, offering the public cheap meals during these times of hardship.
One of Iceland's most popular affordable restaurants is Domo, located in downtown Reykjavik. Since Domo opening its doors in 2006, the restaurant has been sought-after amongst both locals and food critics for its expertise and welcoming dinning environment. Domo was even ranked in online magazine foodandwine.com's 'Go List' as one of the top European restaurants to dine during 2008.
Furthermore, Domo has been crowned as the "kitchen without boundaries", serving a variety of pure Icelandic sushi, depending on the catch of the day. Domo also offers its renowned Asian/French inspired a la carte menu for those seeking an exotic yet classic dish, as well as a great selection of wines, sake and an extensive whiskey collection.
Domo's head chef, Bjorn Thor Baldursson also produced a dedicated sushi and sashimi menu, as well as a special sushi-tasting menu designed for two people to indulge in, offering spicy tuna rolls, soft shell crabs and mixed sushi platters.
For more information on Domo's affordable menu visit www.domo.is