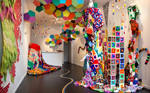 Yarn craft festival Loops, held in Reykjavik, Iceland, between June 17 and July 4 2010, has a vibrant and colorful program, guaranteed to charm and delight yarn enthusiasts of all skill levels, from the inexperienced novice to the seasoned professional.
The festival's program consist of a variety of lectures and workshops. It can best be described as a fiesta of small knitty dishes that offer up the taste and feel of the Nordic knitting tradition, juxtaposed with the rich flavors of the world of modern artistic knitting.
Loops 2010 is proud to announce that the acclaimed danish designer/knitter Helga Isager will be attending the festival to give a miniature workshop/lecture. Her event will take place on Sunday June 20.
Other particiapants in the festival are Icelandic intarsia knitter Helene Magnusson (IS/FRA), artist Rosa Sigrun Jonsdottir (IS), Berlin based artist Patricia Waller (Chile) and Evelyn Clark (USA). Other exciting and inspiring participants will be announced as they are confirmed.
Knitting Iceland at Loops
Knitting Iceland, a company passionately devoted to furthering the reputation of the Icelandic knitting tradition on an international scale, will host three events at the Loops 2010 festival.
Did you make this up?
– a seminar addressing copyright issues in textile design and knitting.
The seminar will explore how copyright laws affect knitwear designers and knitters in general. Can designers "own" ideas in knitting? Should we be proud when copied? Haven't we seen it all before?
Tunisian Crochet the Icelandic way
– meet the designer/show and tell.
Patrick Hassel Zein discusses his unique take on Icelandic wool and design through his preferred craft, Tunisian crochet. Patrick will talk about the designs found in his recently published book "Rússneskt hekl á íslensku" (Tunisian Crochet in Icelandic), most of which are inspired by the unlikely combination of traditional Icelandic knitting and the designer's love for Sci-fi. Demonstrations will include innovative techniques in working Tunisian crochet in the round, incorporating colourwork and stitch patterns.
Meet the Designer: An Afternoon with Evelyn Clark
– Seattle-based shawl expert hosts show and tell.
Meet Evelyn Clark, the renowned designer of popular lace shawls such as The Swallowtail Shawl, The Shetland Triangle and The Flower Basket Shawl.
Festival lodging
Our guest are invited to strike a bargain deal for accommodation with the Reykjavik Downtown Hostel, one of the festival's official collaborators. The hostel's cozy lounge area has been turned into a knitting zone, complete with baskets of yarn and needles in every corner.
A number of exciting off-venue events, hosted by many of Iceland's finest craft-friendly companies, will ensure that visitors need not go without crafty activities at any time during their visit to the world's northernmost nation capital. Come to Loops 2010 and experience knitting under the midnight sun!
To find out more about Loops 2010 at the Nordic House in Reykjavik visit: www.nordichouse.is
To visit the Knitting Iceland website and Facebook site visit: www.knittingiceland.com