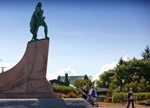 Travellers currently stranded in Iceland are safe and sound according to Visit Reykjavik, the official Tourism website for Reykjavik and the surrounding area.
All visitors stranded in Reykjavik, due to flight restrictions across Europe, have been offered complimentary Reykjavik Welcome Cards, allowing for free access to all museums and exhibitions, swimming pools, public transport, and other leisure facilities.
"We all sympathise with those stranded here in Reykjavik, so we decided to hand out free passes to make the best out of a bad situation and make their stay as comfortable as possible. We always enjoy the company of our foreign travellers and wish them a pleasant stay in Iceland and a safe journey home." Commented Sif Gunnarsdottir, head of Visit Reykjavik.
Known Icelandic TV personality Vala Matt also took to the lively streets of Reykjavik to ask travellers their thoughts on the current situation. During an interview with a Dutch couple on how they will spend their time throughout the delay period, they responded by saying "we'll just see some more, it's a great country to be in."
All spirits seem positive across the Reykjavik area, with daily life remaining as normal.
To view all six interviews conducted by Vala Matt visit http://www.visitreykjavik.is/desktopdefault.aspx/tabid-60