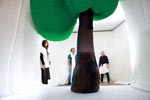 The Loops: Nordic Knitting Art 2010 yarn crafts festival, is set to take place at the Nordic House in Iceland's capital Reykjavik, between the summer months of June and July.
The purpose of the Loops festival is to celebrate the creativity found within knitting and crochet, and eventually ushering you into a world where everything is soft, colorful and intricately crafted. The festival will feature exhibitions, performance art, workshops, inspirational talks, markets and off-venue events.
Loops 2010 simultaneously reaches into the past and explores the present, capturing the essence of the Nordic knitting tradition and its current usage within art and design. The event will serve as a platform for guests to unravel the mysteries of different knitting techniques, to share collective knowledge and to be inspired by the work of artists and designers to see yarn crafts in a new light.
Among confirmed participants in Loops 2010 are artist/designer Isabel Berglund (DK), the designers behind popular craft-blog and online store Pickles (NO), knit-designer Vivian Hoxbro (DK), fashion-designer Johanna av Steinum (FO), knit-graffiti team Masquerade (SE), and knit-designer Katrina I Geil (FO). More participants are pending and will be added to the program as they are confirmed.
Proud collaborators with the Nordic House in the planning of the festival are Knitting Iceland, and Reykjavík Downtown Hostel. Knitting Iceland will host special events on the program and Reykjavík Downtown Hostel will serve as the off-venue information center.
For more information visit www.nordichouse.is or alternatively, contact festival manager Ilmur Dogg Gisladottir at ilmur@nordice.is